Lottery Visa Green Card
Lottery visa green card is the United States Diversity immigrant visa (Diversity immigrant visa abbreviated as DV, also known as lottery green card or lottery visa). Since 2003, there are 50,000 positions per year. The spouse of the green card applicant and the unmarried child under the age of 21 can apply for the lottery visa at the same time.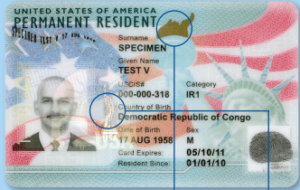 Eligibility: Applicants must have at least a senior secondary school graduation, equivalent education, or at least two years of work experience or vocational training in the past five years
The only way to participate in this lottery is to go to the U.S. Department of State website application form during the open registration period.
From October 1st to November each year, applicants on the U.S. Department of State website can fill in the information and upload photos. Each applicant can only fill in one copy. If you fill in multiple copies, you will be disqualified. Afterward, a lottery will be conducted. From May of the second year, applicants will be allowed to go online to confirm whether they have been selected, and will not notify applicants of whether they have been selected by mail or email.
In the first step, the State Council website participates in the lottery
www.dvlottery.state.gov
The filling process will continue
The second step, the consulate visa DS-260
List of documents:
 Appointment letter for interview, with case number
DS-260 Visa Application Form Confirmation Page
Passport, valid for more than 8 months
8 photos, US passport format 2 Inch* 2 Inch. Each applicant needs three identical color photos. The photos are 2 inches square (about 50 mm square), and the background must be white. The photo should be borderless, with the head as the center frame. Photos were taken before clutter, pattern, or dark background will not be accepted
Visa fee payment receipt
Certificate of academic qualification or work certificate, graduation certificate of high school or above, transcript, or other documents certifying academic qualifications. If there is no certificate of high school education or above, relevant work certificates must be provided.
Birth certificate or birth certificate notarization. If you don't have the birth certificate of the hospital at that time, you can go to the user account. Birth certificates of the applicant, spouse, and children. Every child, regardless of age, must present a birth certificate. All unmarried children under the age of 21 must provide birth certificates, even if they have not yet planned to immigrate at this time.
Original documents proving that all previous marriages have been legally terminated (if applicable)
The certificate of no criminal record issued within the last year, if there is a court or prison record, a court verdict and an English translation is required.
Health check report, the health check report within the last 6 months.
TIPS: If you have a military service record, you need a demobilization order, or proof of exemption from service, or a certificate of adoption
If you have adopted children, you need to prepare relevant supporting documents. Other documents such as I-20 (if you have ever studied in the US), financial proof, US tax information, entry and exit records in the past few years… all helpful documents are ready to avoid delays in supplementary documents.
Step 3 USCIS pay lottery green card fee
If the immigrant visa with a marriage green card is passed, the visa officer will make a visa and take away the passport. Generally, you can receive your passport within 2-4 weeks. Note: The immigrant visa medical report is valid within 180 days, not 180 days from the visa date. At this time, you are ready to land in the United States and the next step is to pay the US Immigration Service.
Immigration packet will be sent 2-4 weeks after the interview, including passport with visa. The visa is valid for 6 months. After arriving in the United States, the immigration packet needs to be handed over to the border customs officer. Don't forget to go to the USCIS website to pay the Green card production fee, usually sent out within 90 days
Tips: If there are more than 50,000 immigrants to the United States, the people of this country cannot participate in the lottery. In the DV-2022 green card lottery, the United States does not accept applicants who hold or were born from specific countries and regions, including Bangladesh, Brazil, Canada, China (including Hong Kong but not Macau from 2022), Colombia, Dominica, Ecuador, El Salvador, Guatemala, Haiti, Honduras, India, Jamaica, Mexico, Nigeria, Pakistan, Philippines, South Korea, United Kingdom (excluding Northern Ireland) or its overseas territories, Vietnam.